Our vision
is a sustainable one.
Our vision
We want to create a world where power no longer comes from using fossil fuels. A world full of green technology including electric vehicles, renewable generation, battery storage and of course hydrogen fuel cells. The hydrogen economy is here and growing fast.
Our purpose
We're on a mission to replace fossil fuel
generation with hydrogen fuel cells.
Our strategy
Our strategy is built around replacing diesel generation. We do this by commercialising our three key product offerings over the development cycle from investment to revenue.
With our S Series H-Power product range already generating revenue, our ongoing strategy is to grow that revenue stream whilst developing the S+ H-Power Generator and Fuel conversion product offerings to the revenue stage over the near-term and medium-term.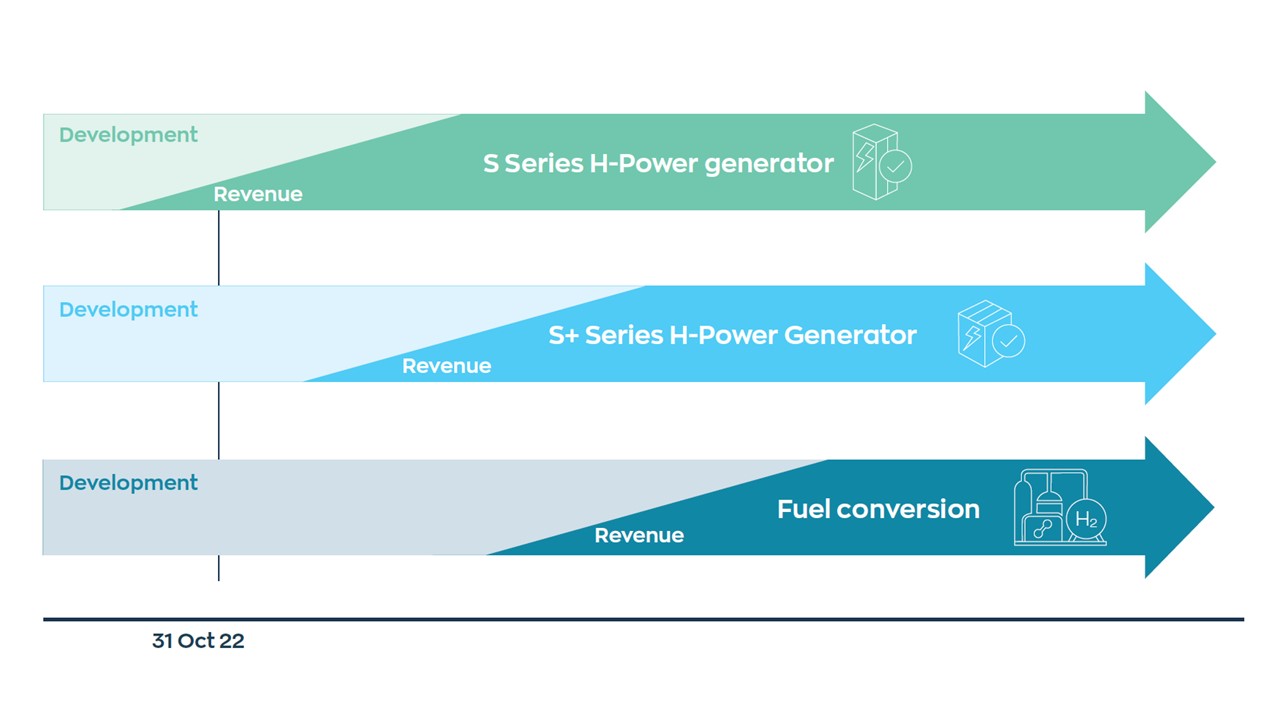 Why AFC Energy
Affordable. Flexible. Clean – it's in our name.
We believe in customer choice, which means getting the right balance between the three benefits of affordability, flexibility, and cleanliness. We're creating a hydrogen future where these are not trade-offs.
Affordable
Keeping the total cost of ownership down
We know for customers it's the total cost of ownership that really matters. So this is where we focus, our 'all in' end to end solution keeps this overall cost down.
Lower cost fuels
We are developing fuel cells that don't just run on hydrogen, they work with hydrogen carrier fuels ammonia and methanol as well. The carrier fuels can lower the cost of fuel, storage and transportation.
Efficient fit-for-purpose systems
Our modular fuel cell units have their capacity and flexibility designed specifically for how the power will be used. This keeps fuel and running costs down.
Flexible
Product flexibility
We have a range of products and services to suit a variety of applications, our modular plug and play technology products offer flexibility and choice.
Technology flexibility
We offer a range of technologies, configurations and capacities suited for a selection of industrial applications.
Fuel flexibility
We offer fuel cells that can be run on hydrogen converted from carrier fuels, ammonia or methanol. Fuel flexibility delivers value and helps resilience as we bridge to a hydrogen economy.
Clean
Reduced emissions
Our technology products help organisations on their path to net zero. Fuel cells also reduce local air pollution and run a lot quieter than diesel generators.
Sustainable fuels
We can source and deliver hydrogen or hydrogen carrier fuels from a range of sources and arrange on-site storage for you.
Cleaner end to end
We put sustainability at the heart of our business, but there's more that can be, and will be, done.