Climate change is the biggest
challenge we face today.
Sustainability
Sustainability or Environmental, Social and Governance (ESG) is at the heart of our purpose, business, products and day-to-day decision making.
We define 'sustainability' as: 'meeting the needs of the present without compromising the ability of future generations to meet their needs.'
We know how important it is to being a successful business because:
It ties to our long-term purpose.
It links to the demands of our customers, investors and partners.
Companies that focus on sustainability are inherently lower risk.
We think it's the right thing to do.
Zero emission energy is the viable way forward to reaching net zero
Reducing emissions for customers
The deployment of our products help our customers to reduce their emissions, particularly where it replaces diesel generation. The charts below shows, per kWh of power generated, the reduction in climate changing carbon dioxide and air polluting oxides of nitrogen.  These go towards our customers ESG objectives.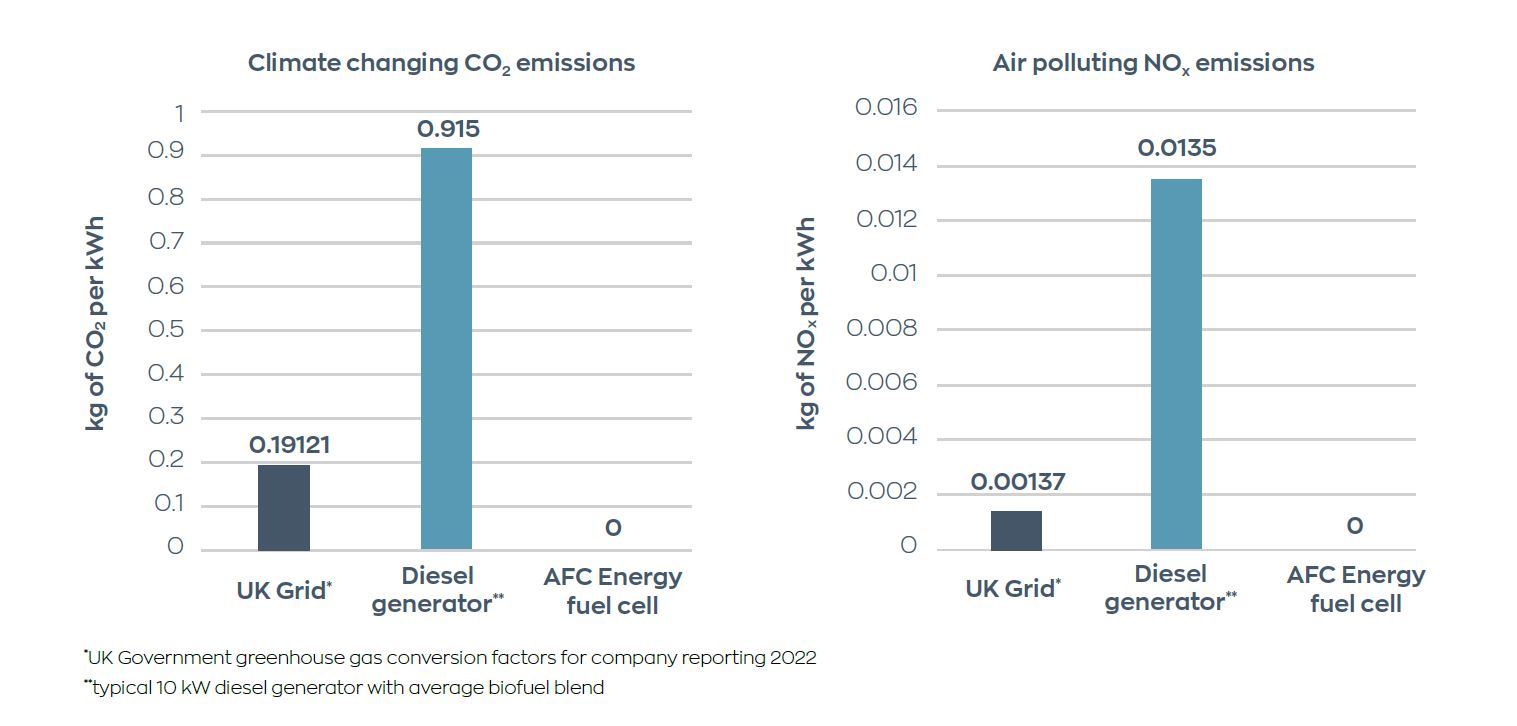 Sustainable Development Goals
We support the UN's Sustainable Development Goals (SDGs) – delivering against 6 of the 17 UN SDGs.
3. Good health and wellbeing
Air pollution remains a significant health issue in many cities across the world, particularly amongst the young or vulnerable. The replacement of diesel generators with hydrogen fuel cells such as ours which produce no air pollutants at all, therefore has large potential to improve health.
7. Affordable and clean energy
Our fuel cell technologies produce zero emissions at the point of use, replacing their fossil fuel equivalent in use today. With increased production and availability of green hydrogen and its falling price (forecasted to half in price by 2030), we are playing our part in delivering affordable, clean energy.
8. Decent work and economic growth
We employ a diverse workforce with professional, technical, engineering, scientific and other highly specialised skills and  experience. Our people join and stay with us because of the opportunity to work on innovation and sustainability.
9. Industry, innovation and infrastructure
We partner with industry to support the decarbonisation of hard-to-abate sectors such as maritime, construction, rail and data centres. Those partnerships with industry are innovating technology for the future.
13. Climate action
The vision for a world without hydrocarbons often puts hydrogen centre stage. We are contributing to the global efforts to get to both net zero and real zero.
17. Partnerships for the goals
We have forged a number of international partnerships to accelerate the deployment of our zero emission fuel cell systems, as well as instituting a number of supply chain agreements to deliver them.
ESG materiality matrix
As we grow and evolve our business, we recognise the need to ensure that our activities are meeting the needs and expectations of our stakeholders.
To support this, we commissioned a third-party agency to conduct an ESG materiality assessment. The aim is to help us to identify and prioritise the ESG issues that are most relevant and material for the business and our stakeholders.
This process followed a robust and recognised approach. We canvassed opinion among our stakeholders' views on the materiality of a range of ESG issues. We engaged with our employees, customers and investors using a combination of qualitative and quantitative methods, including interviews and surveys.
Using the insights gained, we created a materiality matrix which can be seen below. This matrix provides the foundation to develop a strategy for sustainability, focusing on those issues where we can have the greatest impact, with our commitment to health and safety to the fore.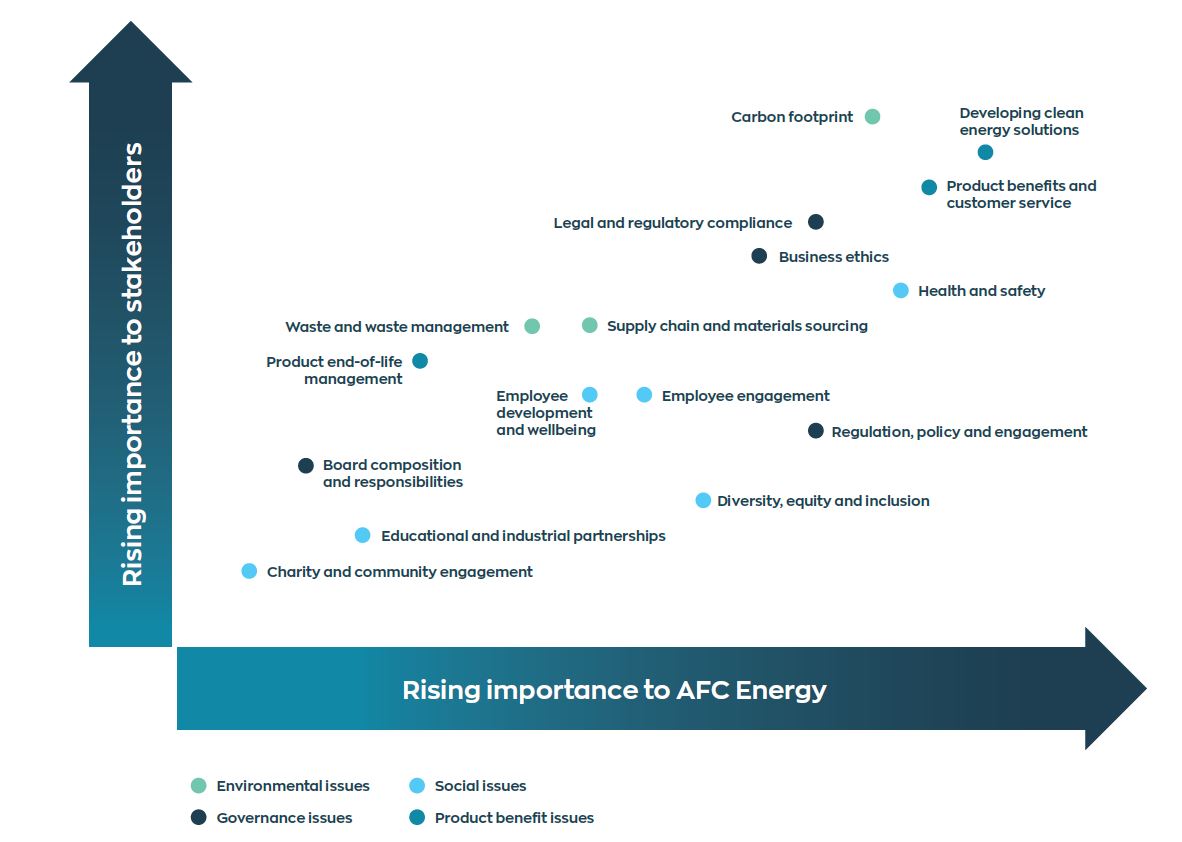 Environmental
Development of zero emission H-Power Generators at point of use
Ability of systems to use multiple sources of fuel, including ammonia, to accelerate decarbonation
Product design and lifecycle management
Energy management of operations
Supporting the decarbonisation of several key industries
Materials sourcing and efficiency, linked to effective supply chain and procurement management
Social
Embedding effective health & safety practices in system build and use
Embedding effective health and safety culture and practices for all employees
Clear diversity and inclusion practices
Employee health and well-being initiatives
Commitment to help the communities we live in
Governance
Strong board oversight
Supply chain and procurement management
Effective decision making is embedded throughout the business
Driving change through effective KPIs
We have a range of policies
Code of ethics
Anti-corruption
Diversity and inclusion
Environment
Health and safety
Quality
Terms and conditions
Privacy policy
Cookie policy
Proud members

AFC Energy is a proud supporting member of the Hydrogen Council and has spent years working closely with them. Our shared vision for a hydrogen future propels us forward in developing an industry that can help solve the world's decarbonisation challenge.
AFC Energy is also proud members of Hydrogen Europe and together we are advancing carbon neutrality by accelerating the European hydrogen industry.
AFC Energy is also proud members of The Ammonia Energy Association and we support the global non-profit industry association to promote the responsible use of ammonia in the sustainable energy economy.