Hydrogen-powered, low-emission Craft Gin for Christmas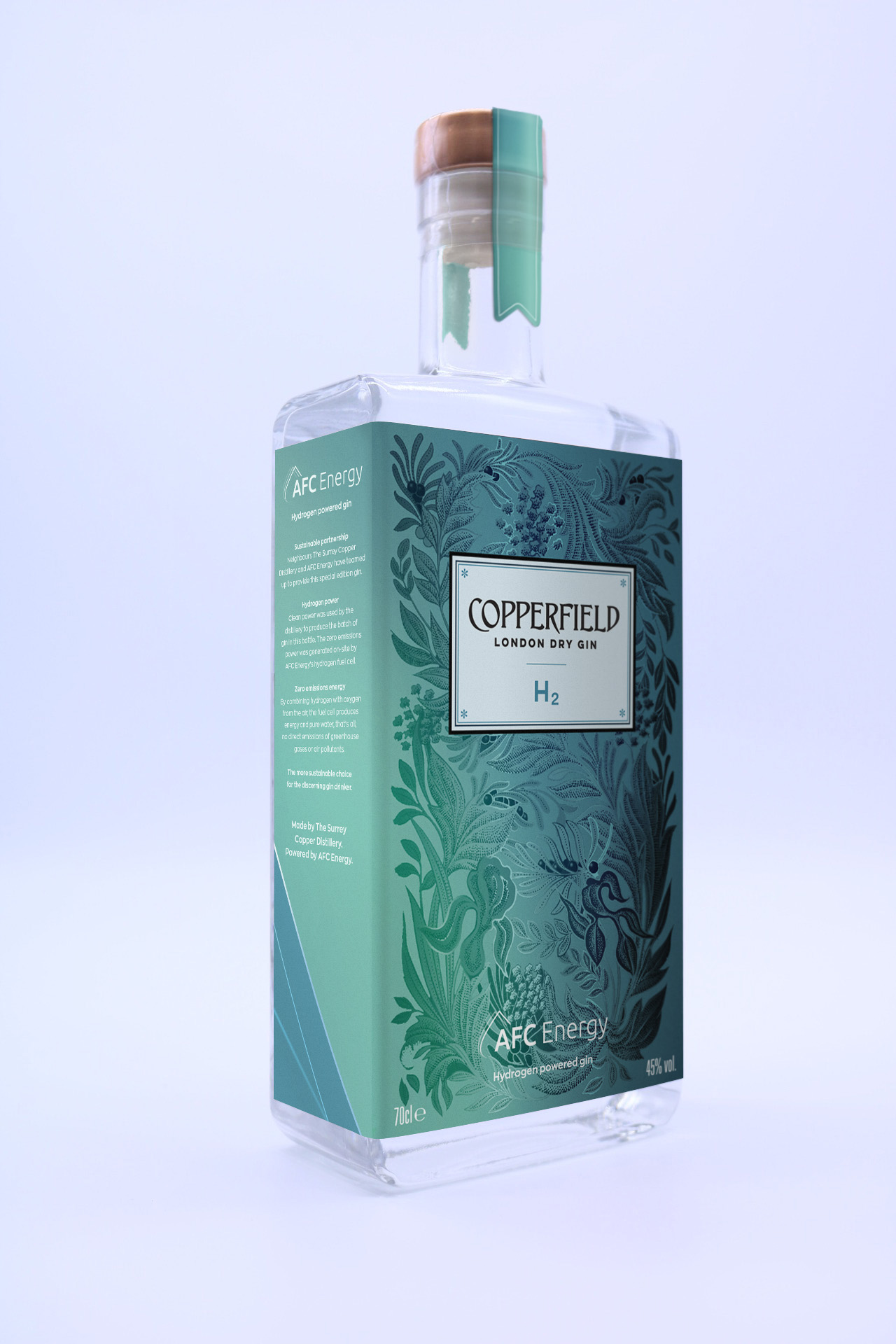 The Surrey Copper Distillery is teaming up with AFC Energy, a leading provider of hydrogen power generation technologies, to produce a low-emission craft gin for Christmas.

The special edition 'Copperfield H2 Gin' is being produced in a limited initial batch of 500 bottles and went on sale today.

The Copperfield gin is being distilled using power provided by an AFC Energy H-Power Tower which can produce electricity from hydrogen; by combining hydrogen with oxygen from the air the fuel cell produces energy and pure water.

This results in significantly lower CO2 emissions across the distilling process.
The collaboration exemplifies exciting British innovation and creativity, bringing together two neighbouring, Surrey-based businesses. It also highlights how hydrogen could support decarbonisation of the UK's 400 plus gin distilleries and more broadly the food and beverage industry to meet net zero targets.

Dr Chris Smart, founder of The Surrey Copper Distillery, said:
"Our gin making process and carefully selected botanical ingredients provide the very best spirit flavour and aroma experiences. Our collaboration with AFC Energy demonstrates a more sustainable manufacturing process. Through the use of low-emission hydrogen power, we have been able to develop a gin which not only tastes excellent, but also has a lower carbon footprint."

Adam Bond, Chief Executive Officer at AFC Energy, said:
"Hydrogen fuel cell technologies can be implemented today across a wide-range of applications as demonstrated by our collaboration with our neighbours at The Surrey Copper Distillery. The Copperfield gin harnesses the ingenuity of two local businesses to demonstrate creative ways in which clean hydrogen can be used to mitigate greenhouse gas emissions and support the transition to a zero-carbon future."

The special edition gin is available for purchase at The Surrey Copper Distillery website: https://www.thesurreycopperdistillery.com/product/copperfield-h2-gin-70cl-limited-edition/

For more information about how the fuel cell generates power go here: https://www.afcenergy.com/case-studies/hydrogen-powered-gin